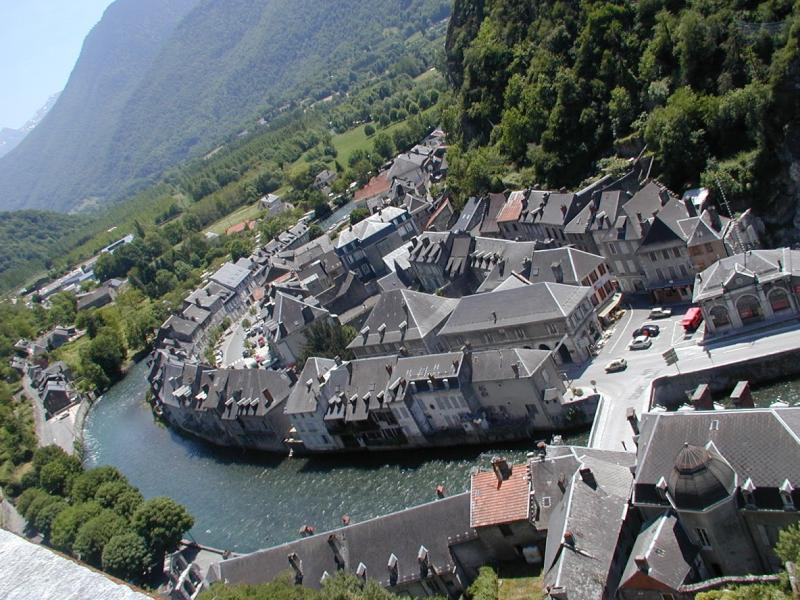 '
Historical sites and monuments
MUNICIPALITY OF SAINT-BEAT-LEZ
Gateway to the Central Pyrenees, welcome to Saint-Béat Lez located in the south of the department of Haute-Garonne, between Pique and Garonne. Labelled "Station Verte" (Green Resort) for nature holidays!
About
Situated between the two great Midi-Pyrenees sites of Saint-Bertrand-de-Comminges and Luchon, Saint-Béat Lez, because of its marble exploitation, was formerly named by the Romans, Passus lupi, the Pas du Loup. The passage was so narrow between the quarries and the Garonne that they meant that only a wolf could circulate there or that it was so frequent that it seemed to have the right to pass through at its own pleasure. The Romans discovered and exploited the marble which made the reputation of the ancient city. Today, its marble and sculpture festival still proves it.
A huge adventure and relaxation area within everyone's reach!
The commune of Saint-Béat Lez is at the gateway to the Val d'Aran, between Pique and Garonne, a confluent valley. Gateway to the central Pyrenees, located 1h30 from Toulouse, the resort has a multitude of outdoor activities.
Saint-Béat Lez is situated at the base of a 4-season resort, Boutx le Mourtis, in its family spirit and in a wooded environment with a breathtaking view of the most beautiful peaks of the Pyrenees chain. Ski but not only, fat bike, airboard...
A preserved nature and outdoor activities, with departures for hikes, white water activities, cycling, fishing...
Au Pays de l'ours: a memorial located on the site where the bears were released into the wild. This wilderness which has welcomed the reintroduction of brown bears, in Melles and Burgalays, and is home to a rare variety of juniper.
Between the two great Midi-Pyrénées sites of Saint-Bertrand-de-Comminges and Luchon, you will discover a rich history and heritage: the marble city, medieval history with its feudal castle, Romanesque churches from the 12th century, and the town of Luchon.
Labels